Now that your puppy has been socialized and has a start on basic manners, it's time to start retrieving. There are a few key steps to successfully begin the stages of retrieving. Jumping right into using a live bird and gun with your young dog is not one of them.
In the initial stages of retrieving, I use a paint roller instead of a bumper. This works well because there are no strings on it, it is soft on puppies' teeth, and it is light for them to carry. The lightweight roller will also sit atop the grass so they can easily spot it.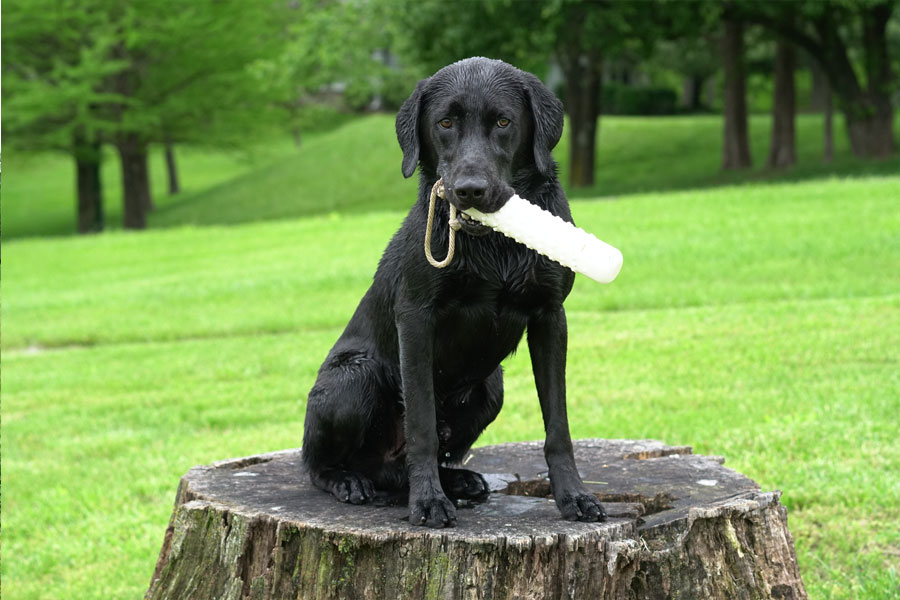 It is good to do this once or twice a day, but keep the sessions short and sweet. Always keep the puppy wanting more. Hanging up the roller while the puppy still wants to play will aid in building drive and desire. Sometimes this means only doing three or four retrieves with the roller. The time spent on each session will vary depending on the dog. Once you see the dog getting tired or bored, you know it is- time to call it quits.
While you introduce these retrieving tactics, it is important to do lots of walking and obedience training on a check cord. Acclimate the puppy to the check cord by taking it for several walks and letting it drag the cord before introducing the paint roller. This way, if the puppy refuses to come back with the roller, you can attach the check cord and use that to encourage it to come back directly.
The next step is adding a pigeon, starting with a dead one. Pigeons work well since they are both smaller birds for the puppy to grab and more affordable. This progresses into using a live wingclipped pigeon. It is also a good idea to use the check cord when introducing pigeons, as often young dogs do not come back as well as they do with the paint roller. The birds can be more distracting for the puppy, so having those basic obedience commands already learned will help them to listen better while working with the bird.
Once they are fully intrigued by the pigeon, it is time to add a cap gun. Starting with a real gun or even being too close with the cap gun may scare the puppy. You do not want it to be too loud right off the bat. Begin by using the cap gun at a distance. Throw the pigeon and shoot the cap gun to get the puppy going. If the puppy seems unsure at the shot, do not keep shooting. Back up to more fun retrieves before adding the gun again.
Formal obedience is a great place to introduce the young dog to pressure. I prefer a prong collar, but a choke chain also works. This is when your dog will learn how to accept a correction and how to shut off pressure. For example, if you are walking the young dog and they are pulling on the leash, the prong will give them pressure.
They should quickly learn that when they refrain from pulling, the pressure stops.
This is a crucial beginning step to introducing pressure, and it will carry over into field training. When they transition to working on force fetch or collar conditioning, they will know that they need to change their behavior in order to shutoff the pressure.
Keep in mind using praise throughout this entire process is important. However, you need to be using praise at the appropriate times. It is important only to use praise to reinforce good behavior and not to con them into doing something right.
For example, if you want your puppy to come, do not use praise to get it to come. Instead, use a stern here and then give praise to reinforce the good behavior.
Now you not only have found your puppy, but you also have put it on the right track to being respectful and love retrieving. Enjoy your new hunting buddy and happy retrieving!
FTK Pro-Tips
Read exclusive training tips and articles writted by Jessie Richards at Full Throttle Kennel.
Jessie Richards owns and operates Full Throttle Kennel, in Campbellsport, Wisconsin. She specializes in training all breeds of retrievers for hunting and AKC hunt tests, as well as guides upland hunters and takes time in October for waterfowl hunting in Saskatchewan.