I am a strong believer in raising puppies in the house to help teach proper socialization, house breaking and manners.
Retrievers in general are social animals and thrive on interaction with people. A lot of the behavioral issues in young dogs result from a lack of socialization. I've found that puppies raised in kennels tend not to know how to receive praise or affection or learn how to understand correction. In addition, they are often noisier and more timid around unfamiliar situations, dogs and people. A puppy needs to be your best buddy. I try to take mine along with me whenever possible, to the store or park, to training or just over to a friend's house. Exposing puppies to a multitude of different situations only enhances their abilities to learn and cope with new things.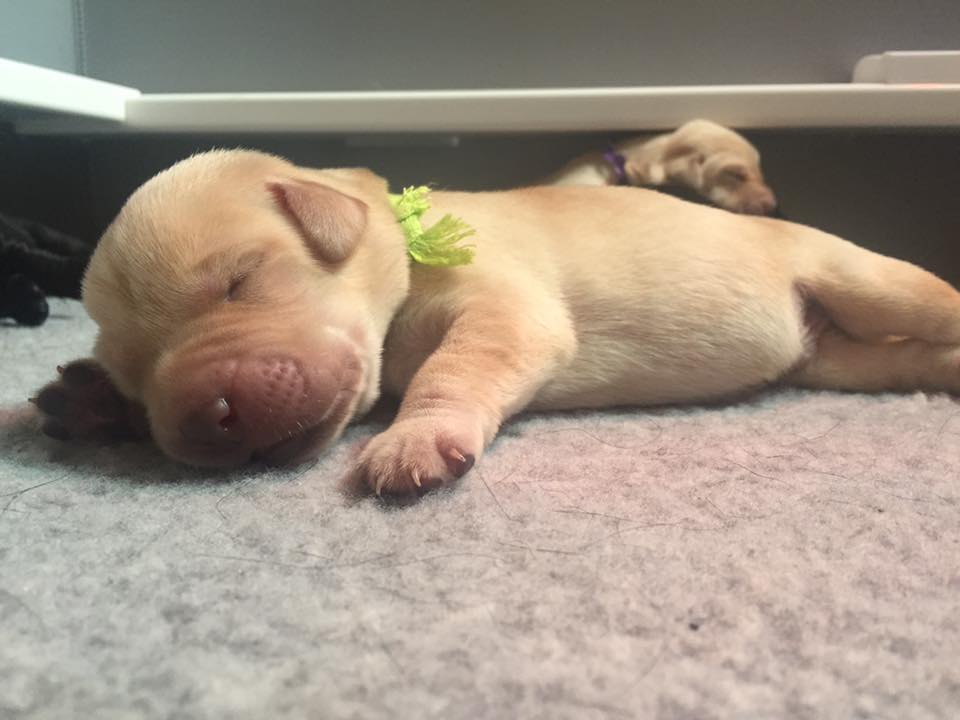 Three of the most critical parts of raising a puppy in the house are crate training, housebreaking and teaching good manners.
I like to start with a crate fitted adequately to the puppy's size. It needs plenty of space to stand · up, lie down, stretch out and move around a bit. It shouldn't be so big the puppy can move out of its space and soil an area. As the puppy grows, the size of the crate should be increased.
There are a few ways to get a puppy comfortable with a crate life: feeding meals in it, rewarding the behavior of entering with a treat and keeping a blanket or stuffed toy inside the crate that smells like the litter.
Crate training also makes car rides easier. Puppies need to travel in crates instead of being loose in the back seat. Safety is one reason. If you need to slam on the brakes, you wouldn't want your new puppy catapulted into the dash or windshield. Second, a pup comfortable in a crate will be less anxious when traveling.
For housebreaking, the puppy needs to go out after certain activities: upon awakening, after eating or taking a big drink and after play time. It is also important to learn your puppy's tendencies on how it asks to go out. Sometimes it's running towards the door, whining in the crate or starting to sniff around as if looking for a place to go. Most puppies raised in the house and properly crate-trained naturally want to be clean and would rather go potty outside than in their inside space. It is important to learn the difference between their needing to go out and just not wanting to be in the crate.
Last, an important part of raising a puppy in the house is teaching them good manners. Puppies naturally try to climb and jump up on people. When they do, I use the command Off and give either a small jerk on their lead or bump them with a knee or shin. What I don't like to see done is hitting or kicking the puppy. Hitting can cause them to flinch or cower from regular hand movements, and kicking can cause serious injury.
For Come and Sit I like to use treats to reward the desired behavior. For example, if I call the puppy to come to me and she comes, I reward her with a treat. It is important to use the treat as a reward and not as a bribe.
An equally important command to teach, when the puppy exhibits an undesired behavior, is a stern No! Show the puppy how to stop what it's doing and redirect it to an acceptable behavior. For example, if the puppy starts to chew on a shoe, say "No," take the shoe away and replace it with an acceptable toy.
This is only the beginning of starting your puppy on the fast track to becoming a reliable companion and gun dog.
FTK Pro-Tips
Read exclusive training tips and articles writted by Jessie Richards at Full Throttle Kennel.
Jessie Richards owns and operates Full Throttle Kennel, in Campbellsport, Wisconsin. She specializes in training all breeds of retrievers for hunting and AKC hunt tests, as well as guides upland hunters and takes time in October for waterfowl hunting in Saskatchewan.